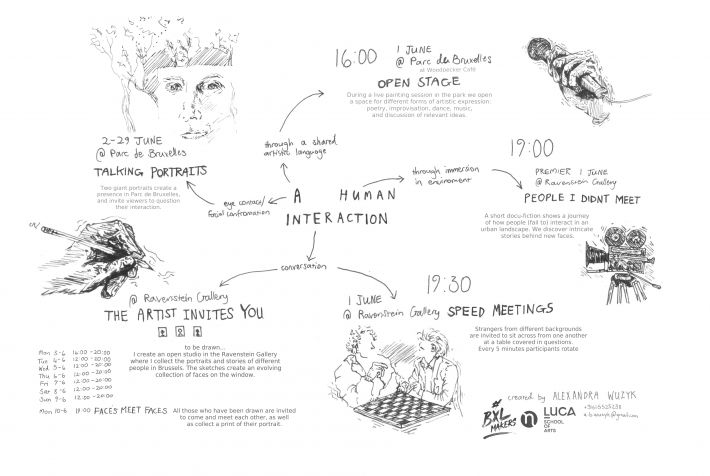 Juni
Sint-Lukas studente Vrije Kunsten Alexandra Wuzyk onderzoek met A Human Interaction dmv artistieke interventies de menselijke interactie in Brussel. Met street-art schilderijen en korte documentaires wordt de kijker uitgedaagd om op zoek te gaan naar het verhaal dat achter de gezichten, achter de toevallige passant. De 2 meter hoge portretten worden opgesteld in het Warandepark. Van speed datings, enorme portretten tot open studio's. Wees welkom !
Live Painting 1 juni @ Warandepark
en ook People I didn't meet @ Ravenstein
Speed meetings @ Ravenstein
van 2 tot 27 juni Talking Portraits @ Warandepark/Parc de Bruxelles
van 2 tot 09 juni The Artist invites you @ Ravenstein
www.alexandrawuzyk.com

1 June
16:00 PM Live Painting @ Warandepark
19:00 PM Premier People I Didn't Meet @ Ravenstein Galerie nr 35-36
A short docu-fiction shows a journey of how people (fail to) interact in an urban landscape. We discover intricate stories behind new faces.
19:30 PM Speed Meetings @ Ravenstein Galerie nr 35-36
Strangers from different backgrounds are Invited to sit across from one another at a table. Every 5 minutes participants rotate.
2 - 29 June Talking Portraits
Two giant portraits create a presence in Parc de Bruxelles, and invite viewers to question their interaction.
3 - 9 June The Artist Invites You
To be drawn…
I create an open studio in the Ravenstein Gallery where I collect the portraits and stories of different people in Brussels. The sketches create an evolving collection of faces on the window.
Mon 3/6 16:00 - 20:00
Tue 4/6 12:00 - 20:00
Wed 5/6 12:00 - 20:00
Thurs 6/6 12:00 - 20:00
Fri 7/6 12:00 - 20:00
Sat 8/6 12:00 - 20:00
Sun 9/6 12:00 - 20:00
during these hours the film People I didn't Meet is also loop-screened in the gallery space
10 June -19:00 Faces Meet Faces
All those who have been drawn are invited to come and meet each other